What We Do

Seamless pipe manufacturing

Seamless steel pipe

is the Strongest amongst all pipes type as it has a Homogeneous structure throughout pipe length.
Seamless pipes are manufactured in a verity of size and schedule. However, there is a Restriction on the manufacturing of large diameter pipe. Seamless pipes are widely used in the manufacturing of pipe fittings such as bends, elbows, and tees.








Welded Pipe Manufacturing Process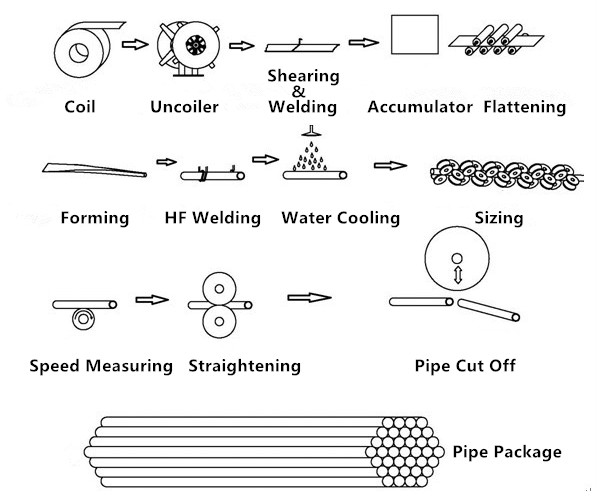 Welded Pipes are manufactured from Plate or continues Coil or strips. To manufacture welded pipe, first plate or coil is rolled in the circular section with the help of plate bending machine or by a roller in the case of continues process.

Once the circular section is rolled from the plate, the pipe can be welded with or without filler material. Welded pipe can be manufactured in large size without any upper restriction. Welded pipe with filler material can be used in the manufacturing of long radius bends and elbow. Welded pipes are cheaper with compared to the seamless pipe and also Weak due to the weld.





There are different welding methods used to weld the pipe.


ERW- Electric Resistance Welding


Electric resistance welding (ERW) is a process by which metals can be joined together by applying pressure and conducting a strong electric current through the metal combination to heat up the welding joint and melt the metals, forging them together.




EFW- Electric Fusion Welding

Electrofusion welding is a form of resistive implant welding used to join pipes. A fitting with implanted metal coils is placed around two ends of pipes to be joined, and current is passed through the coils. Resistive heating of the coils melts small amounts of the pipe and fitting, and upon solidification, a joint is formed.




HFW- High-frequency welding

Radio-frequency welding, also known as dielectric welding and high-frequency welding, is a plastic welding process that utilizes high-frequency electric fields to induce heating and melting of thermoplastic base materials. The electric field is applied by a pair of electrodes after the parts being joined are clamped together. The clamping force is maintained until the joint solidifies.



SAW- (Long seam & Spiral Seam)
Submerged arc welding (SAW) is a common arc welding process. The first patent on the submerged-arc welding (SAW) process was taken out in 1935 and covered an electric arc beneath a bed of granulated flux. Originally developed and patented by Jones, Kennedy and Rothermund, the process requires a continuously fed consumable solid or tubular (metal cored) electrode.